Christmas and all the festivities that come with the season are around the corner. As you invest in Christmas decorations, as much time should be dedicated towards planning for fun activities for the coolest Christmas party.
Whether a private party or a community Christmas party organized for the school or church, or a corporate Christmas party, the kids will be looking forward to an event filled with exciting activities and something worth remembering.
Inflatable Fun
When it comes to inflatables, you have so many options to choose from for the perfect Christmas party. Whether the Christmas party will be an indoor or outdoor event, inflatables are too popular among kids to miss from your list of party entertainment options. Visit our page at (insert link) and select the best combination from among premier bouncing castles, slide units, Velcro walls and obstacle courses
Face Painting
In keeping with the Christmas theme, the kids can choose from a wide selection of face paint designs. One may leave the face painters booth with a reindeer design, and yet another as a snowman.
The kids' imagination will be the only limit with our skilled face painters. Click here (insert link) and book our face painting artists for your Christmas party, for a colorful event that the kids will definitely enjoy.
Christmas Charades
Over the holiday, you and the kids get to do a lot of fun activities such a decorating the Christmas tree with all kinds of ornaments as well as molding a snowman out in the snow. How about making a game of it and acting out a silent movie as the other team tries to guess what activity you are playing out.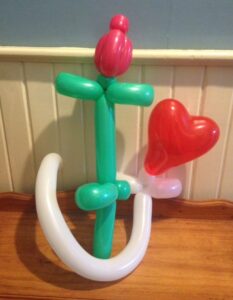 Balloon Art 
Apart from the balloon décor around the venue that the kids will absolutely love, you can invite a balloon twisting artist to your party. The kids can enjoy different creative designs and may score a balloon reindeer to take home with them.
At Perth Bouncing Castle Hire, we have a very talented team that is very friendly with the kids and will work to produce the best of designs that will bring a smile to every child. If the kids want a Christmas tree made from just balloons, then our artists are definitely the team to call. Click here (insert link) for a glimpse of what you can look forward to at your party.
Photo Booth
Christmas is definitely the season for warm smiles and good cheer. And what better way to capture these wonderful moments at your Christmas party than with a photo booth. The kids, with their faces all made up in fun face paint designs and holding onto their balloon art souvenirs can create a lasting memory of the day with a photo booth lined with the most stylish Christmas lights and props such as candy canes and elf outfits.
Music at Christmas Party
The kids have over the years definitely appreciated Christmas carols and have a couple of favorites. Music is such a great part of the festivities and while the kids may not be able to join in the choir going around the neighborhood singing sweet Christmas tunes, they can definitely sing their hearts out at the party. Everyone at the party, young and old will definitely not miss out on the chance to sing along.
Everyone can also play carol Pictionary where the players will try to illustrate in a drawing a Christmas carol of their choice as the rest try to correctly guess the name of the carol.
Decorating the Christmas tree
The kids can each bring an ornament from home and join in a combined effort to decorate a Christmas tree that will definitely be the masterpiece of the party.
For some more fun, adults can volunteer and have the kids decorate them as they would a Christmas tree. It is definitely something of a good laugh.
Party Snacks and Treats
Click here (insert link) for our slushie machine hire packages. Your guests will definitely need refreshing drink to wash down those decorated Christmas cookies.
The kids will also enjoy some tasty fairy floss. Click here for fairy floss machine hire details.
Planning and preparations are definitely in high gear as everyone tries to organize the coolest Christmas party. With these few suggestions you can rest assured that yours will attract the most attendance and definitely an event all the guests will remember for a long time.