Stuck for ideas on what to do these July School Holidays. We have found some activities in Perth we think are worth checking out.
1.Jungle Maze Challenge and Mask Making in Perth CBD
A jungle maze challenge is on offer for the kids these July school holidays, along with an animal mask-making workshop.
The Maze and Workshop will operate between 10am – 4pm daily. NO SPECIFIC SESSION TIMES.
Get an entry form from our Safari Ranger and find all the animal pictures hidden in the maze for a chance to win a great prize!! Get your picture taken with the life-sized baby giraffe and baby elephant!
Entry is free, however, you will need to register online (from 1 July) at www.trybooking.com/BKEDN
Event Showings: Saturday 4 July  – Friday 10 July | 10am – 4pm
More Details: www.visitperth.com/events/jungle-maze
Location: Forrest Pl, Perth WA 6000, Australia
2. Return Of The Dinosaurs at Scitech
Scitech's Science Centre is reopening for the school holidays! Come say hello and spark your curiosity once again.
Our prehistoric friends are ready to give you a roaring welcome back. Plus, all your usual favourites: from super cool science shows and roar-some puppet shows to stellar journeys in the Planetarium and hands-on learning in Discoverland.
We highly encourage you to book online for priority entry to the Science Centre, in order to avoid crowds and queues at the ticketing desk. We will be operating with a limited daily capacity and physical distancing measures, giving you more freedom to explore and learn at your own pace, so it's best to get a ticket early to guarantee entry.
Get Tickets: Scitech Tickets
Location: Cnr Railway Pde and Sutherland St Perth, Western Australia 6005
3. School Holiday Program Hosted By Workpower – Perth and Mandurah
Operating from two locations in Perth and Mandurah, this program is suitable for young people and children with disability, autism, and mental health conditions aged 7 to 17.
They offer a mix of one-on-one supports and small group supports, held at our centres and in the community.
What you do during your support is up to you! It could include:
– Hiking and nature adventures
– Exploring the local community
– Interactive games and in-house movies
– Arts, craft, and creative baking sessions
– Science and sensory play sessions… and lots more!
2 Locations:
4. July Holiday Art Camp in Victoria Park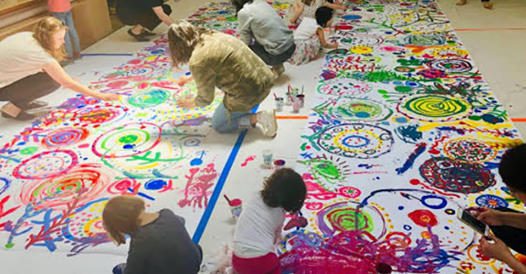 Suitable for Ages 5 – 10
Every Day will include;
A fun art history lesson where children get to learn about old and new masters and create their own artworks using specific techniques.
Other Activities include (but are not limited to):
Printing
Model Making
Paper Making
Make your own Puppet and Theatre
Alcohol Ink Printing
Raised Salt Painting
Marbling
Portraits
Fun with Communal Painting (based on workshops by Herve Tullet)
Face Painting
String Art
Stained Glass Windows
There will be a creative corner where children can create their own imaginings from recycled treasure, an outdoor garden and play area where some of the day will be spent playing, building and inventing, and the day will be a mixture of structured activities and free time/play – so every child goes home completely happy, exhausted and full of new amazing skills after a day of fun and learning.
These workshops are about 'process art' – showing children new techniques and skills, rather than focusing on 'perfect' deliverable end products. There will be stuff the children can bring home, but it will be a range of crazy things, that hopefully from the initial class they can take even further at home and school. 🙂
******Healthy snacks will be provided for morning tea.
Each day will be different, with a mixture of art history and learning new arty techniques!
Location
Victoria Park Community Centre
248 Gloucester Street
East Victoria Park, WA 6101
5.  Maddaganza – Carnival in Maddington
Kick off the 2020 July school holidays at Maddaganza.
Proudly hosted by City Of Gosnells. Yes, our team will be there too!
The event is set up under the Big Top at Maddington Recreation Ground from Saturday July 4th 2020, over five action-packed days.
Each $10 ticket includes a 75-minute session, with unlimited access to all the attractions and activities and something for everyone from toddlers to thrill-seekers.
Sessions running all day from 9am.
 Unlimited carnival rides – including the Dream Swinger, Bumper Cars, Runaway Train, Super Sizzler and more!

 Character meet and greets – Chase from Paw Patrol, Olaf and Dorothy the Dinosaur

 Roving entertainers

 Arcade games

 Cute animals

 Fairy wonderland

 Magical unicorn selfies

 Children's party play

 Sandcastle making

Pop-up library

 Chillout Zone and pop-up cafe

 Photo booth
Tickets available at 
 www.maddaganza.eventbrite.com.au
Location
Maddington Recreation Ground
Canning Park Avenue
Maddington, WA 6109
What are the session times?
Session 1 – 9am – 10.15am
Session 2 – 10.30am –11.45am
Session 3 – 12pm – 1.15pm
Session 4 – 1.30pm – 2.45pm
Session 5 – 3pm – 4.15pm
Session 6 – 4.30pm – 5.45pm
6. Children's July 2020 School Holiday Fishing Program!🐟🦈 –
Do you want to get the kids outdoors these school holidays? The program covers:
🐠Conservation
🐠Knot tying
🐠Rig building
🐠Casting
🐠Baiting
🐠Fishing
They supply all fishing tackle, rods and bait 🎣
Beginner classes will be held at Point Walter & Mindarie Marina. The cost is $35 per child. Morning & afternoon classes available.
Morning sessions from 9am – 12pm
Afternoon sessions from 1pm – 4pm
7. BUILD YOUR OWN TOY – ADVENTURE TRAIL
Enjoy a free family adventure through the streets of Fremantle's historic West End these July school holidays as you build your own LEGO toy.
Simply collect your Adventure Trail map from the Fremantle Visitor Centre from daily and head to the participating stores to collect the pieces and build your own toy*. There is a range of different toys available to build – get in quick while stocks last.
As you visit each store, you can also collect special stamps on your map. Collect all five stamps and enter the draw for your chance to win* one of three LEGO voucher prizes from Toyworld Fremantle (first prize is a $300 voucher, 2nd prize is a $200 voucher and 3rd prize is a $100 voucher).
Make sure your little explorers keep their eyes peeled for the construction updates on High Street. There are bright signs that highlight some fun facts about the historic Pipes for Fremantle project.
Spot the LEGO themed shop windows and use your Adventure Trail map to find your way through the streets of Freo and complete the trail.
Snap a photo with your LEGO along the adventure trail and upload to Instagram using #freoadventuretrail for your chance to win one of seven prizes. See terms and conditions.
In another special LEGO treat, kids will have the chance to build their own LEGO masterpiece and watch a live build with Fremantle's very own LEGO Masters Alex Towler and Jackson Harvey. The 2020 Australian LEGO Masters Champions will be at Fremantle's Kings Square on Thursday 16 July from 10am – 2pm. To watch a video of Alex and Jackson being crowned LEGO Masters Champions click here.
There are special offers and deals from local businesses exclusively for families. These offers are being updated regularly.
For other school holiday ideas and things to do in Fremantle including workshops and classes, and the top 10 free things to do with kids, see our latest blog here.
*Terms and conditions apply. Most suitable for children 10 years and younger.
Location: Trail starts at the Fremantle Visitor Centre
8 William St
Fremantle WA 6160
Australia