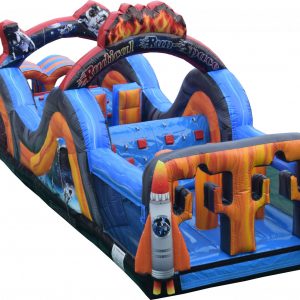 Space Run Obstacle Challenge
Space Run Obstacle Challenge
FROM $ 650.00
Ready for a rush of adrenaline? Show your prowess as you pass by and over an exciting course of obstacles on our space run obstacle challenge. For set up, you will need a 15 M × 5 M ×4 M (L×W×H) minimum space, and the course can be set up in either indoor or outdoor venues that meet this requirement. You can never go wrong with the space run obstacle challenge as it is perfect for just about any event. The obstacle challenge is suited for kids aged 3 and above as well as adults. You can have 4-6 people going at it at a time and the winner gets to proudly bear the title of space run obstacle challenge champion.
Need some help with supervision? Our team is available for supervising play on the obstacle challenge at an additional charge of $ 45 /hr.
Book online today and get in touch for any enquiries or click here to view more Inflatable Obstacle Course Hire.
Specifications
FEATURES: Climbing wall, tunnels, pop ups
SPACE REQUIRED: 15m L x 5m W x 4m H
AGES: 3 to Adult
ACCESS: 1.5m flat access
CAPACITY: 4 people at a time approx
POWER: 1 x 10amp (within 20m from set up location)power point, can be on circuit within
NOTE: After 6pm Pickup/Overnight Hire: Contact us for details
Price
PRIVATE HIRE / PUBLIC EVENTS – $650 for 3 hours + $130 (plus GST) per extra hour
OPERATION (2 operators required) : PBCH Trained supervisors are available at additional costs
NOTE: After 6pm Pickup/Overnight Hire: Contact us for details